The summer RV season is right around the corner, so the time to start preparing your RV is now! Whether you are taking a long trip or just heading to a nearby campground for the weekend, there will be certain tools you will want to have in your RV in order to be prepared for anything that could happen.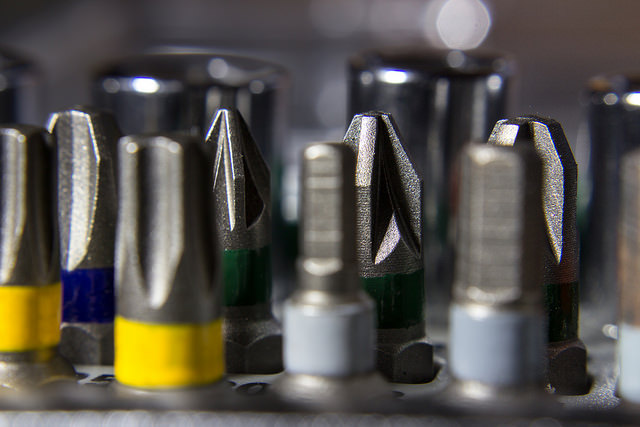 Here are of the basics you will want:
Multi-Bit Ratcheting Screwdriver Set:

Screwdrivers are some of the most used and versatile tools you can get, but with screws being all different shapes and sizes, you will need more than one type. With the multi-bit set, not only will the screwdriver heads be interchangeable to fit what you need, but the ratcheting mechanism will make using the tools easier.

Have multiple screwdrivers in one!
Multi-Tool:

Because you will have limited space in your RV toolbox, a multi-tool is a great way to have numerous tools in one compact object. Many of these tools come with items like needlenose pliers, multiple knives, bottle opener, wire cutters, and much more.

Have many tools in one with a multi-tool.
Flashlight:

One of the most important things to have in your RV is a flashlight. If you do not have access to electricity or you need to see into a tight place on your camper that does not have light, then having the flashlight will still allow you to see.

Never be without light in an emergency.
Tire Gauge:

There are manual and digital tire gauges that you can get, but no matter which type you want, it is an important tool to have. With this tool, you can make sure that all of the tires on your RV and your vehicle are aired up properly to keep you safe while traveling.
Tape:

Tape is an incredibly useful thing to have. With options like masking, electrical, and duct tape, you can quickly fix issues until you can get them properly taken care of by a professional.

Tape can be a quick fix!
It is time to start preparing for the RVing season, and having a fully stocked tool set is essential. Be sure to contact us to find out more about taking proper care of your RV, or stop on by our location! We'd love to see you and show you our new and used RVs to help you prepare for your next RVing vacation.