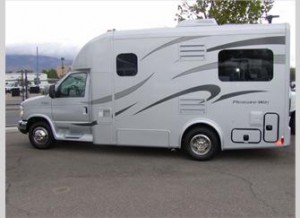 If you've been looking for a class B motorhome for long, chances are you realized that they can get pricey. The more bells and whistles you add, the higher the price climbs. Now, that's not to say that buying a new RV isn't a smart choice. In fact, if you're looking to do a lot of traveling or have specific floorplans features and amenities you want, buying new is probably the only way to go. But, if you're looking to save some money and just hit the road, then you'll want to consider buying used.
Here at Vantastic Vans we have one of the largest selections of used Class B Motorhomes. When you buy a used RV from us you get a unit that has been thoroughly inspected, cleaned and repaired (if necessary). Our trusted RV service team takes special care to ensure that each used RV that we sell has their stamp of approval on it.
Buying a used RV allows you to save thousands of dollars on your RV purchase. That's money that you can put toward retirement or use for more vacations!
If you're flexible on the amenities you want, for example, you could take or leave a power awning, then buying used might be right for you. Also, those who don't mind being flexible on their floorplan will love the wide variety of options and layouts available to them.
If you're interested in buying a used class B RV, contact us. We can answer any questions you have and make sure you find the best RV for your needs. We are here to make sure you're equipped to have family fun and are here to serve you before, during and after the sale.