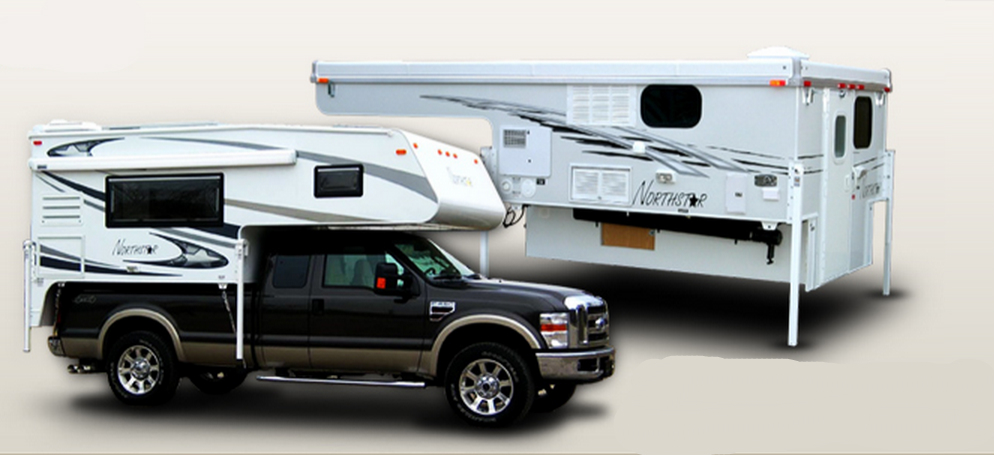 Ideal for those who are planning a quick trip out to the woods or those who simply want to be able to drive their own vehicle between destinations, Northstar truck campers offer maximum comfort in a minimalist package. They attach to your truck's bed and can be fitted to 3/4 ton, 1 ton, full size and even compact trucks. Manufactured in Iowa, these RVs are high quality and allow you to take your home anywhere.
These truck campers offer space for up to 3 people, which means they're ideal for couples, small families and even retirees who want to bring a guest. Up to 3 slides expand your living space and make for a home on the road that's spacious when parked and super compact when you're traveling to your destination. Units range between 7′ and 16′ in length, which allows you to choose the truck campers that best meets your needs. Some truck campers even come with toilets.
Floorplans include:
Northstar 600SS – Offers room for up to three people, including a 16,000BTU furnace and 17 gallon fresh water tank. There's also a two burner range, sink and refrigerator.

Northstar 650SC – Features room for up to two people, 20 gallon fresh water tank, 13 gallon grey water tank and 5 gallon black water tank. There's even a cassette toilet and shower!
Northstar 700SS – With space for three, this unit includes a front bedroom floorplan with storage on either side of the bed.
Northstar 8.5 Adventurer – This unit sleeps three people and includes a 13 gallon grey water tank and 5 gallon black water tank. There's a toilet at the rear and a 56″ x 80″ standard cabover (extended optional). The dinette also expands into a sleeping area.
This is just a snapshot of what is available here at Vantastic Vans. We are here to help you find the best RV for your needs. Our selection also includes small RVs – class B camper vans – from manufacturers like Pleasure-Way, Roadtrek, Coachmen and more.