We, here at Vantastic Vans, are proud to be a Class B motorhome dealer because we know all of the amazing benefits that come with them. Therefore, before you purchase your next recreational vehicle, first take a look at all of the reasons you should consider buying a small RV or camper van: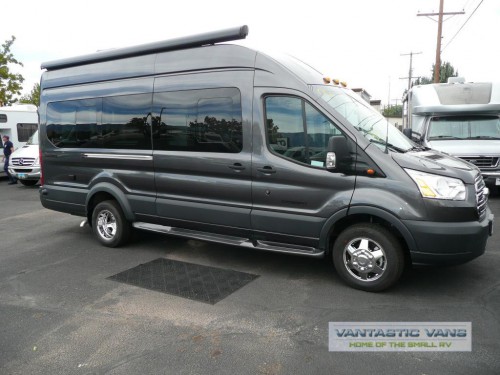 Easy Travel
Camper vans are designed with maneuverability in mind. The compact size paired with the highest quality driving features on the market will come together to give you a vehicle that is easy-to-drive each and every mile. Plus, this small design makes it the perfect size for easy storage in your driveway.
Efficient and Aerodynamic
Saving money will just be one of the ways these campers make your life on the road easier. The aerodynamic exterior and fuel efficient engine will provide a more luxurious ride and allow you to get up to 24 miles per gallon. Spend less money getting to your destination and more once you have arrived!
Practical Benefits
The size and style of our Class B motorhomes allow them to come with a few unconventional and practical benefits. Things such as the smaller size make this the perfect second vehicle that you can use everyday, and with insurance costs half the rate of a normal automobile, you can save money driving it. However, since it is also a place where you can live, you could also claim a second home tax break to help with your taxes.
As you can see, there are so many reasons why owning one of our small RVs or camper vans will help take your RVing life to the next level. To find out even more about why so many people love these recreational vehicles, feel free to contact us or stop by our locations today!