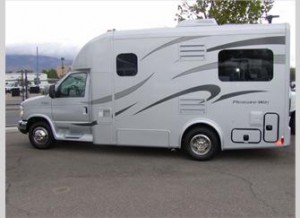 If you're looking for a used class B RV dealer who truly understands the RV industry and how to find the best RV for your needs, look no further than our team at Vantastic Vans. Our experienced team has the knowledge and expertise needed to help you find the perfect used class B RV for your family. Whether you're looking to travel in retirement or have kids and need space to sleep a few more people, you can rest confident we'll have the right floor plan for you.
Buying used offers you a wide selection of RVs, all at a fraction of the cost of a new RV. If you're willing to be flexible when it comes to choosing a floor plan and amenities, then buying used might be a great choice for you.
We're proud to offer a large selection of used class B RVs from well known manufacturers including Pleasure Way, Leisure Travel, Intervec, Roadtrek and more.
Each of these manufacturers promise to provide you with a high quality home on the road that stands the test of time. Quality furniture, comfortable driving seats and attractive interiors all come together to offer you a wonderful living experienced all packed in a compact RV that is easy to drive and maneuver.
One of the best features of the class B RV is the fact that it can take you places where larger RVs can't. And, if you choose to add solar panels, you can harness the sun's energy and use it to power your RV in a green, affordable manner.
So, what are you waiting for. Contact us or stop by to walk through available units. We'll help you find the best RV for your needs and are committed to serving you before, during and after the sale.