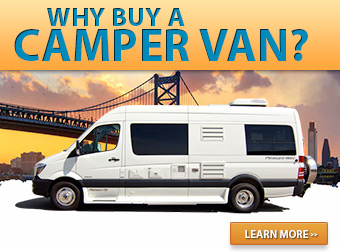 At Vantastic Vans we're proud to be home of the small RV. In today's day and age people are obsessed with big things. They want bigger homes, bigger cars, bigger bank accounts, bigger vacations. The truth is, big isn't always better. When it comes to RVing you can purchase a large class A motorhome, but the reality behind owning a large RV is that you'll have a harder time finding a place to store it, campgrounds to camp at, places to park, and don't even get us started on the cost of gas!
Small RVs provide many advantages to their large counterparts. Read on to learn more.
Size | Just because class B RVs are smaller in size, that doesn't mean they skimp on amenities. Every class B comes with a galley, bathroom and sleeping area. You get a house on wheels that is incredibly comfortable and compact.
Maneuverability | Because these RVs are built on a van chassis they're easy to drive and park. They move much like the family minivan and make getting around RV parks and narrow driving areas convenient and safe.
Versatility | The class B motorhome can serve not just as a vacation vehicle, but also as a day to day vehicle. Use it to pick up groceries, tote the kids around town, or set up a comfortable living space at their soccer or softball game.
Convenience | Never bother with finding a hotel and checking in, lost baggage at the airport, missed flights or having to rent a car. You get your living space and transportation all packed in one unit. As a bonus, class B motorhomes also provide a distinct advantage over class A and C motorhomes: they can serve as a vehicle to get around your destination.
Random Stops | Have you ever thought about what's so great about RVing? The truth is it provides you with freedom and flexibility to live your life as you wish. That means that if you're driving to Yellowstone and want to take a break to visit some random attraction off the beaten path, you can do that.
If you're interested in learning more about how a class B motorhome can help you live the life you've always dreamed of, contact us. We also offer a unique 'Fly and Drive' program. This means we'll buy you a flight to our dealership, pick you up at the airport, and bring you to the dealership to test drive the RV you're interested in. After you purchase you get a full orientation on your unit and you get to drive off into the sunset as a happy camper!