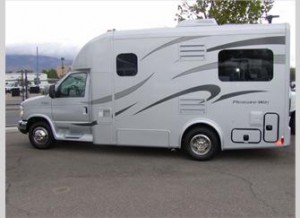 If you're in the market for an RV, chances are you've heard of the wide variety of units out there. If you're in the market for a new RV and want one that is easy to drive, affordable and comfortable, you will love the class B. Also known as a camper van or travel van these RVs are great for short trips around town or long trips across the country. Here are a few more reasons you might want to consider purchasing a camper van.
Fuel Efficiency
These RVs can save you tons of money on fuel, thanks to their aerodynamic design and smaller van chassis they are built. One tank of fuel will get you further than a traditional class A motorhome.
Second Home Discount
Oftentimes a camper van will qualify for a second home tax break. You will need to check with your CPA to be sure, but these little RVs can pack a mean punch when it comes to saving you money around tax season.
Family Fun
Despite their compact sizes, camper vans actually offer a lot of room, which means you can accommodate the entire family (depending on floorplan) on your next vacation. Simply hop in, throw your favorite blankets on your bed and hit the road.
Affordability
These RVs are surprisingly affordable and are a great investment. You'll pay a fraction of a traditional vacation for your camper van vacation, and the time you spend "getting there" will be much more fun.
If you're interested in learning more about camper vans, contact us. We are here to answer any questions you have and make sure you have the information needed to make the right buying decision for your needs.