With summer winding down, I'm looking forward to cooler days and fresh air. But depending on where we're traveling, opening the windows on our Van can be an invitation for mosquitos, gnats, and whatever else is flying around to come calling. I learned that several years ago when we had made camp at the river-front Tom Sawyer Campground outside West Memphis, Arkansas. The setting was beautiful and we were just steps from the Mississippi river. It was just about sunset when we sat down outside to enjoy the view. The sounds of crickets and frogs filled the air and a warm breeze kept the evening comfortable. It was spectacular. At least until I returned to the van to refresh our wine, which is when I discovered that our home on wheels was full of flying insects. It put a real damper on the evening, and I've never approached a sunset quite the same way since.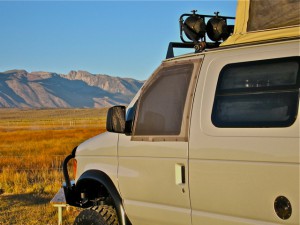 Since we're planning to travel to Florida this winter, I went on the search for a solution to those pesky mosquitos and I think I found it. It's called the Skeeter Beater RV Window Screens. I haven't received my order yet, but they're billed as magnetic window screens made of mesh that allow you to enjoy the fresh air while keeping out all the flying critters. The sales pitch says they use magnets to ahere to your window frame and even when they're in place you can still open and close your doors without interfering. And they also make them for Jeeps, SUVs, and even sunroofs! I ordered the classic black mesh screens — just $49.95 for a pair that fits the driver and passenger side window, and I can't wait to report back on how much I love them. Stay tuned.
If you're in the vicinity of Albuquerque, be sure to stop in at Vantastic Vans and see our huge selection of pre-owned Travel Vans. Or, if you have something special in mind, Contact Us or call us at 505-268-5009 and we'll help out.