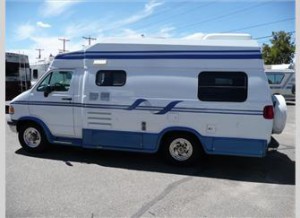 Fall is here and it is the best time to buy a new RV. The weather is getting cooler, kids are back in school and you are here at the right time to find a great RV at an incredibly affordable price. Here at Vantastic Vans, we pride ourselves on offering a huge selection of used travel vans. These RVs are a great choice for anyone seeking a comfortable, homey RV. Buying used is a great way to get the best of both worlds – a quality RV and a great deal.
As your used travel van specialist we are proud to offer used units from Coach House, Intervec, Leisure Travel, and more. Each of these RVs are thoroughly inspected to ensure they're of the highest quality and safe for you and your family.
One of the biggest perks of buying used is the variety available to you. Because you're open to a variety of floorplans and features you have a ton of options. This includes getting some of the latest and greatest bells and whistles at a steeply discounted rate.
Now, this might be obvious, but another great thing about buying a used RV is the fact that you save thousands and thousands of dollars. This means that you get the most bang for your buck and can have extra money to spend on vacations.
Travel vans are a wonderful choice for anyone seeking the convenience of a motorhome and the drivability of the family vehicle. They're fuel efficient, easy to drive, and capable of being maneuvered through tight spots and crowded campgrounds.
If you're interested in a buying a used travel van from us here at Vantastic Vans, stop by or contact us. We are here to help you find the best RV for your needs and make sure you have the best RV buying experience.