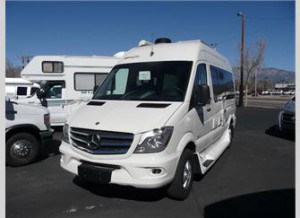 Wondering what a camper van might do for you? These RVs are incredibly compact and easy to drive, yet affordably priced and well equipped. If you're in the market for a new or used RV, but need help determining which one might work for you, you'll want to read more about how the Class B RV and Vantastic Vans could meet your needs.
First and foremost here at Vantastic Vans, we're proud to offer one of the largest selections of class B RVs. That means that we have a keen eye for a variety of RVs and know how to match people to the right unit. We also offer an incredible customer experience and have served customers both locally and internationally.
One of the best things about class B RVs is how fuel efficient they are. In fact, you'll save tons of money on fuel when you choose to travel in a class B RV. And, after a long day of traveling or visiting with the grandkids you can comfortably retire to your own space where you have your own bathroom, bedroom and kitchen. No more searching for public facilities that don't meet your cleanliness standards and aren't comfortable.
Easy to drive and easy to park, you won't find the class B RV intimidating. Unlike larger RVs, this RV is much like driving a mini-van. Think of what you could do with so much freedom! You could see a wide variety of incredible sites in our country, all in the comfort of your own space.
And, RVers are some of the nicest people you'll ever meet. Start RVing and you'll make friends for life. So, try out our Fly and Drive Program and head on over to get your new RV. We'll pay to fly you down to Vantastic Vans and then you can drive your RV back home.
If you're interested in learning more about buying from Vantastic Vans or class B RVs, contact us. We're here to help you find the best RV for your needs and make sure you're equipped with the information needed to make a smart choice.