Our Guarantee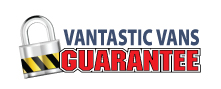 Vantastic Vans Guarantees You . . . When delivered, every vehicle will be as described or the deal is off!
No hassle. No haggle.



At Vantastic Vans, we are proud to offer some of the highest quality RVs on the market today. But, we are more than just a camper seller, we are a full-service Class B motorhome specialist dedicated to providing you with the absolute best models on the market today. That means that we stand behind every RV that comes on and drives off our lot. With Vantastic Vans' guarantee, you can enjoy the peace of mind that comes with knowing you're backed by a reputable and customer-focused company. Explore our guarantee page to learn more about how we go the extra mile to ensure your satisfaction and confidence in your RV ownership.
Because of our dedicated loyalty to our brands, we guarantee that what you see is what you get here at Vantastic Vans. Every vehicle will be as described when delivered or the deal is off! We want to make sure that you have a great buying experience and that you are satisfied with your RV. So when you buy a new or used RV from us, we are certain that you will be completely satisfied. If you have any questions or want to learn more about our sales or services, you can contact us for more information! 
Click for More Reasons to choose Vantastic Vans.